5 Tips For Growing Your Favorite Potatoes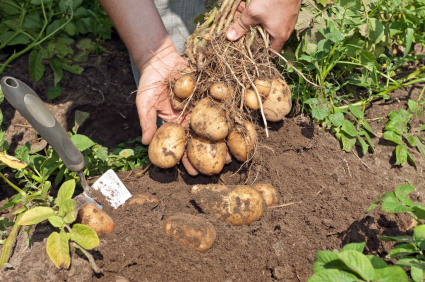 Even novice gardeners can have success growing their favorite potatoes in their home gardens. Potatoes are extremely versatile and can be incorporated into breakfast, lunch, snacks, and dinner menu items. Depending on the variety of potatoes you most prefer, they can be grown in planter boxes, large and medium-sized gardens, and in entire fields. Potatoes are classified as early, second early, and main crops. How you plan to prepare your potatoes, and the level of maintenance you would like as a gardener, will help you to determine which kind of crop to grow. Generally speaking early potatoes are less vulnerable to infestation, and main crops are ideal for long-term storage.

If you are new to growing potatoes, or are looking for ways to improve your current crops consider the 5 tips below:
Tip #1 Chit Your Potatoes
Once you select your seed potatoes it is important to allow them adequate time to chit, or sprout. To properly chit your potatoes you need to place them in a cool environment with adequate sunlight. You can place them in egg cartons or trays with their shoots facing upwards. Growing potatoes that have had the chance to chit for several weeks will help you to produce a more plentiful crop.
Tip #2 Earth Up
To "earth up" your potatoes you would create a mixture of soil and organic compost, and pack it around the base of your potato plant once it begins to sprout. You can earth up your potato plants 3 to 4 times prior to harvest to help your soil retain moisture, and to sure ensure that your potato plants, and potatoes are nutrient rich.
Tip #3 Maximize Your Potato Foliage
One of the many benefits of growing potatoes is that potatoes foliage naturally spread far beyond the area in which you have planted. If you have an area of your garden that is full of weeds, your potato foliage will drown them out, and beautiful potato plants will sprout. To keep your potato plants healthy protect them from frost and ensure that they are in an area with adequate sunlight.
Tip #4 Learn How To Identify Blight
Potato blight is a fungus that can travel down your potato plants, and rot your potatoes. By learning how to identify blight you can destroy the leaves and tubes of the infected potato plants, to significantly reduce its likelihood of spreading. Potato blight can be identified by dark brown patches found on your potato plant leaves. By removing any infected leaves and tubes, you can protect your crop.
Tip #5 You Can Grow In Containers
If you have limited gardening space, or are gardening on a patio or balcony you can grow your potatoes in custom-made or store-bought containers. To successfully grow your potatoes in containers select planters and pots that are at least 35 cm deep and 50 cm wide. Also ensure that your containers have adequate drainage, sunlight, and water.
You may also like: