How to Save Money Building a Greenhouse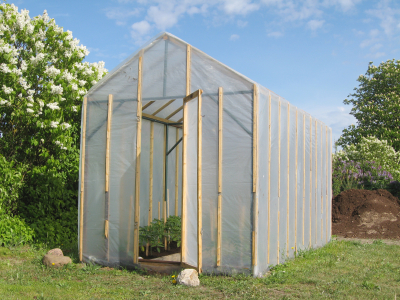 If you are an avid gardener and are looking for a way to protect your plants and flowers during the cooler fall and winter months, you may be considering building a greenhouse in your backyard. While you can hire a local contractor to build a greenhouse for you, it will come at a price tag that is sure to be a few thousand dollars. If you would like the benefits of a greenhouse, without the hefty price take consider building your own, with a few basic tools, building materials, and a well-thought-out plan.

Step #1 Find The Ideal Location

The first step to building a greenhouse is to find the ideal location. The ideal location is an area of your yard that receives a large amount of daytime sunlight. If you do not have an area in your yard that has an adequate amount of daytime sunlight (and won't restrict your other outdoor activities), then select area that has several hours of morning sunlight.

Step #2 Determine The Size

Now that you have found the ideal location it is time to determine the size of your greenhouse. When determining the size consider what type of features you would like inside of your greenhouse, such as how many rows of tables and benches, and gardening tools. Also consider how many plants will need to inhabit your greenhouse. Keep in mind that once you build a greenhouse, you may increase the number of plants and vegetables you grow. Once you determine the proper size of your greenhouse, determine whether you will be building an A-frame greenhouse, or a square or rectangular greenhouse.

Step #3 Find Items To Recycle

When you have determined the location, the size, and the shape of your greenhouse, you now need to focus on your budget. Before compiling the list of supplies you need to begin building, see what items you already have on hand that can be recycled. Building a greenhouse takes a variety of basic supplies such as wood, windows, doors, PVC pipes, brick, large stones, and plastic sheets. You also need tools such as a saw, hammer, and the appropriate nails and wires. Before you compile your list check to see if you have any of these items left over from past building projects.

Step #4 Create A Plan

Once you have found the recycled materials, tools, and supplies you can use it is time to create a plan, and determine what additional supplies you need to purchase. When building a greenhouse it is important to determine a specific design, prior to beginning your project. The more complicated your design, the longer your project may take to complete.
You may also like: